Human Rights Training Program for Burmese Refugees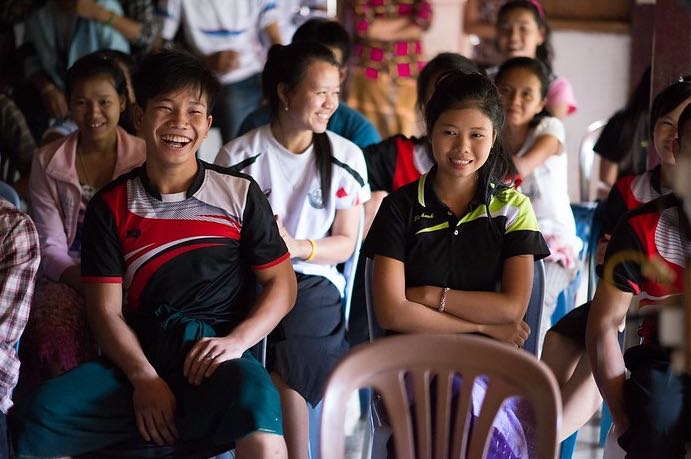 This project provided a ten month training course for 30 young Karenni refugees residing in Karenni Refugee Camp 1 in Mae Hong Son province, Thailand. Young Karenni refugees studied topics including the law, human rights and the environment. 
The project is aimed at students who wish to extend their studies and are interested in non-violent social change. After completing the course, graduates are encouraged to take on leadership roles within the community and share their knowledge with Karenni refugees and internally displaced persons (IDPs). In addition to the ten month training course, SDC runs a five month intensive program (Advanced Community Management Training Course) for seven graduates of previous training courses to give these graduates the opportunity to continue their studies and further prepare them for leadership roles with community-based NGOs. This program will be implemented in collaboration with EarthRights International and Burma Volunteer Group.
The SDC training course, which REI has been funding for several years, has been highly successful in previous years with many graduates becoming involved in community-based organizations, such as youth organizations, women's organizations and human rights and environmental organizations. Some graduates have also returned to Karenni State to collect information about human rights abuses against Karenni people or share their knowledge with Karenni people. In the year previous to this project three graduates returned to Karenni State to provide five-day training courses on constitutional awareness and fair elections in several villages. As a result of the SDC training courses, Karenni people in refugee camps and in many villages in the Karenni State have started to discuss human rights and ways in which they can protect their human rights.
Background
Since 1962 Burma has been ruled by a brutal military junta with a long history of human rights abuses and persecution of the country's ethnic minorities. Karenni State is the smallest and poorest of the ethnic minority states of Burma and decades of persecution and oppression by the ruling military has forced thousands of Karenni people to flee to the Thai border and many more to become internally displaced. Around 23,000 Karenni people reside in camps in Mae Hong Son province. Refugees are confined to camps where they have minimal access to education. As a result, most Karenni people are unaware of their human rights or ways to protect their human rights. Creating awareness about matters such as human rights, democracy, the rule of law, government, etc., is vital in order to develop a strong and active civil society. SDC hopes that this project will pave the way for political change and improved conditions for Karreni people in Burma.
Results
The student's 6-month curriculum consisted of multiple activities. The fieldwork portion of their training allowed students to share and compare data and information gathered from their local communities. The students also spent considerable time at Nan Soi village. Here the students received lessons on English and computer usage. During the course of this project and Internet line was installed in the Social Development Centre (SDC) office. This has allowed students year round access to knowledge and ideas outside of the refugee camp. A debate was held during International Rights Day. Attendees to the event include past SDC students, community leaders, local Community Based Organisation staff, and students from other refugee camp projects. These debates helped to reinforce what the students have learned and provided them with a safe environment to voice their opinions.
Their training and hard work during their time with the SDC has prepared them for creating their own organizations, involving themselves actively in their communities, and proliferating the knowledge of human rights in Burma.
Case Study
A former child solder, Yen Ling was accepted into the SDC's program. Yen Ling had never learned about the importance of human rights, the environment, or the rule of law. He did not tackle problems in his old communities but instead ignored them.
Through the opportunities provided by the SDC, Yen Ling has regained purpose in his life. He has learned that his actions affect others and that his rights are no more important than the rights of others. He uses newly learned problem solving skills to settle disputes respectfully in his community.
"I feel that I have escaped from the abuses I faced in the army"

Yen Ling