Women's Capacity Development Program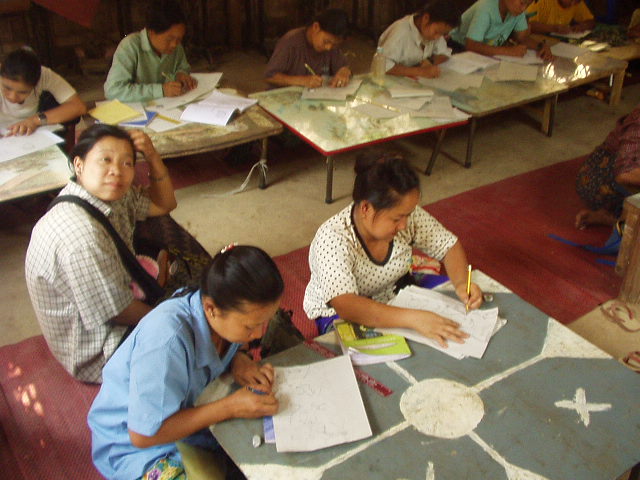 Published
November 1, 2010
---
This project will provide refugee girls and women, aged 16 to around 40 years old, access to education and learning on women's issues, human rights and languages. 30 refugee girls and women, aged 15-21, will be supported to attend the Women's Study Program (WSP) in Karenni Camp 1, Thai/Burma border, and a further 300 refugees, of whom 70% will be women, will be provided with educational community outreach.
Girls and young women previously had very little opportunity for education and access to income, making them very vulnerable within the camp. Over 76% of girls marry in their teens, around 15-16 years old and have very young children so often are unemployed, making them very dependent on their husbands/families. The Women's Study Programme was set up, 5 years ago, as the first girl/women focused education and training programme to empower their capacity within the community. The programme will raise women's consciousness on gender roles, issues of domestic violence, reproductive health and human rights to empower them to have a voice within the personal, domestic and community spheres.
30 girls/women refugees, after 10 months of training through the WSP, will be able to constructively and effectively engage in claiming their rights and support to collective action in their family, school and community. Throughout the year, WSP teachers will receive 3 training sessions, to ensure consistent high standard of education. Community outreach training will be conducted as well as WSP students participating in community event activities, such as International Women's Day to enable informal peer to peer learning.
Additional Information
WEAVE focus on working with and on behalf of marginalized, oppressed, poor and exploited women and children and not just women and children. REI has funded the WEAVE previously ad this is the 4th year that funding has been allocated.
WSP has been in the last 4 years instrumental in changing views and perspective of some women and men on certain issues like women's roles, women's issues (violence against women, domestic violence, reproductive health, etc.). Moreover, it has also created space for women both young and old to converge to discuss issues that affect their lives.
Results
The project provided 50 students with access to education over the course of the 2010-2011 and 2011-2012 school years. Additionally, the project created employment for 22 members of the community and income-generating opportunities for 25 students.
With their funding, WSP also created 32 community projects – including raising pigs, farming vegetables, and starting weaving workshops – which ultimately reached out to 202 refugees. The WSP project was also able to provide community outreach to 1300 refugees (82% women) in 2010-2011 and another 1430 refugees (78% women) in 2011-2012.
At the time the project was completed there were 13 refugee-based community organizations in Karenni Site 1 benefitting from the services of WSP students.