Women's Literacy Classes in Sudan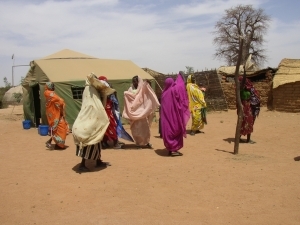 This project initiated, organized and supported 20 literacy classes for internally displaced women in the areas surrounding Khartoum, Sudan. The teachers set up classes in their own neighbourhoods, directly reaching 400 displaced women with literacy skills that are key to finding work. These classes empowered the women, enabling them to find work more easily and generate a source of income for their family. It also aided community rebuilding as this often falls on the women in displaced communities.
Sudan suffers one of the highest illiteracy rates in the world, about 50% overall, rising to 84% among women. Illiteracy in the war-affected areas is even higher – 76% overall in South Darfur for example. With the arrival in Khartoum of newly displaced people from the war-affected areas of Abyei, South Kordofan, Blue Nile and Darfur there was real, increased demand for literacy classes.
The classes were held 3-4 times a week and each class lasted 2-3 hours. They were held in schools, community centres or churches. Students attended for 18 months and at the end of this period, they took the Sudanese government literacy exam.
Additional information
Sudan, Africa's biggest country, has faced near constant conflict since independence from Britain in 1956. From 1983-2005, Sudan experienced Africa's longest running civil war, causing devastating upheaval, with an estimated 4 million people displaced within Sudan and 600,000 refugees fleeing to neighbouring countries.
Results
Together for Sudan provided literacy classes for 433 women and trained new teachers for future classes. Some of the women also brought their children, therefore increasing the number of beneficiaries of the project.
Not only the women themselves have benefitted from this project, but the host community benefited as the women could participate more freely in the everyday life and the community's socio-economic situation.
Case study
"I feel extremely happy and started to encourage the women in my area who are blind of illiteracy to join the class. My dream is to join school and continue my education."